I admit to being wary of this film. I generally find the "toast of the Oscars" films to be less than satisfactory as a complete package. That buzz coupled with the two headline actors – Keira Knightley and James McAvoy – caused yet more trepidation. And as if that wasn't enough, I was also doubtful of helmer Joe Wright, whose Pride and Prejudice was too fast and held neither of the delightfulness or the gravity of the Austen story.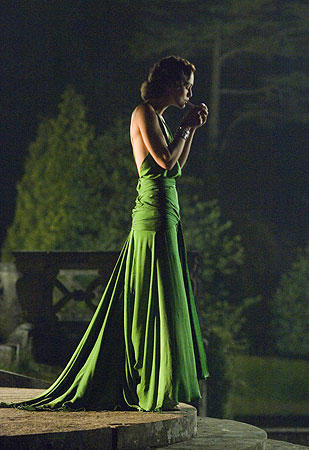 Wright returns to a period piece, very definitely English, but he chooses the 1930s this time. It evokes the fragile years between the wars as its own character. Those who are to the manor born may have escaped the immediate calamity of shell-shocked, damaged population and the downward spiral of economies across the world but the devil-may-care attitude they still engender does catch up with them. Old houses and sultry summer afternoons in a quiet countryside are not innocent, and neither are their upper crust residents. This slightly Gothic, Daphne du Maurier world is paired with the point of view of a little girl. The opening act seems to use some sort of slip time mechanism that allows the viewer to see these events from alternating angles, and these scenes carry with them the immensity of spirit of each character.
Its main plot point – a precocious but angry Briony at age 13, lies about something of grave magnitude – brings to mind how easily the balance is set off-kilter, how little it takes for the entire direction of life to change.
This fragility, underscored by the delicateness of 1930s England, is expertly conveyed in Atonement.

The performances of all the characters are superb. Knightley's spoiled, privileged character is underpinned with a sympathy not easy to accomplish. McAvoy, too is able to affect the audience with more than a little puppy-dog look so often found in romance movies. This film never stoops to that level. Its power is real. Watch for a lovely but short performance by Romola Garai as Briony age 18. Stunned almost silent by her own guilt she resorts to working as a nurse in bomb-raided London, in an attempt to do penance. The last and oldest iteration of Briony is played by the eternal Vanessa Redgrave. Maybe the finest casting of an aging character I've ever seen. All three displayed incredible depth – and each carried enormous continuity through. (In this final scene, Briony's interviewer is the late Anthony Mingella.)
Also of note is the 5:30 single shot on the shores of Dunkirk. Extraordinarily effective. Gorgeous cinematography and set/costume design all around.
130 minutes. Based on the novel by Ian McEwan. Won Academy Award for Best Score. Nominated for Best Picture, Cinematography, Art Direction, Adapted Screenplay, Costume Design and Supporting Actress.